Join Jeremy Scott weekday mornings from 6am to 10am for your daily dose of talk, contests, and of course Today's Best Mix. From riffing on today's pop culture to giving away hot prizes, it's always a great way to start your day on 96FM!
---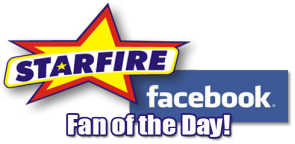 Join 96FM's "That Facebook Page" on Facebook and you could be the
"Starfire Facebook Fan of the Day!"
You could win great prizes compliments of
Starfire Stores!
Click Here and "Like" the page for your chance to win!!
Click below for recent segments of "That Morning Show!"
You know that talk is cheap, and those rumors ain't nice…
Guys, please don't bathe in cologne.
Who knew innocent candy could be so polarizing?
Surprise, surprise. There are already bugs with the new iPhone.
Twitter Chatter 9/16/16
Jeremy has high hopes for John Stamos's latest project.
Are you the kind of driver all the other drivers hate?
Ladies, you spend HOW MUCH on makeup in a lifetime?!
Stubborn men waste gas money. Are you or is someone you know guilty?
For all the ladies who say beards are better.
Planning to get the new iPhone? It won't take you long to break it.
Hate your kid's name, even though you are responsible for it? You're not alone.
Jeremy's ready for Christmas. Sort of. Are you?
This coffee's a real ass-kicker. It's even in the name!
Love at first swipe?
Pizza possesses the power of professional productivity!
Diet pizza: the next great food fad?
If it's called "French," it must be good.
Twitter Chatter 8/30/16