Join Jeremy Scott weekday mornings from 6am to 10am for your daily dose of talk, contests, and of course Today's Best Mix. From riffing on today's pop culture to giving away hot prizes, it's always a great way to start your day on 96FM!
---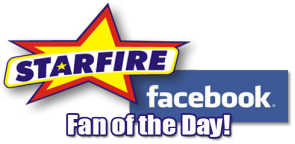 Join 96FM's "That Facebook Page" on Facebook and you could be the
"Starfire Facebook Fan of the Day!"
You could win great prizes compliments of
Starfire Stores!
Click Here and "Like" the page for your chance to win!!
Click below for recent segments of "That Morning Show!"
How Mike Tyson got his face tattoo.
Birthdays and Special Events, 2/23/17
Birthdays and Special Events, 2/22/17
Trying to get fertile? Just add friends!
Ken Bone is back in the news.
Birthdays and Special Events, 2/21/17
Birthdays and Special Events, 2/20/17
Sing this to the Klondike jingle: what would ya do to get out of debt?
In a mate, do you prefer a thinker or a feeler?
Birthdays and Special Events, 2/17/17
Healthiest and unhealthiest cities in America. Where do YOU fit in?
Birthdays and Special Events, 2/16/17
Birthdays and Special Events, 2/15/17
INTERVIEW 2/15/17: Jessica Hinson, NAASEO 5K organizer
The shocking things men DON'T know about their women!
Birthdays and Special Events, 2/14/17
Which aspect of 50 Shades are YOU mostly excited for?
Self-driving cars are coming. How will YOU enjoy the ride?
Birthdays and Special Events, 2/13/17
Birthdays and Special Events, 2/10/17
INTERVIEW 2/10/17: Ashley Crawford, Guernsey County Board of DD
Best place to pop the question? WORST place to pop the question?
Pick one: hot bod, or good cook?
Thinking about getting engaged on V-Day? Can you afford it?
Who's YOUR celebrity crush?
Get nekkid while you strike that warrior pose!
Worst barista EV-AR?!
Getcha popcorn ready!
Introducing: the insta-nosejob!
According to science, YOU are one of three types of selfie taker.
Lie for likes?
Do you believe there's a divinity who loves your football team?
Red wine… in PILL form?
Do you even pumpkin spice latte?
Hurting from a chocolate craving? Walk it off!
What your style says about your politics.
Browns fans were extra generous this Halloween.
Does Fluffy have a sixth sense?
But, seriously, where is the joy in Almond Joy?
The best post-election comfort food is…
Jeremy Scott opens up about his own personal Halloween horrors.
Bald is, indeed, beautiful.
Donald and Hillary = sexy Halloween costumes!
It's okay to shave your legs, guys.
Want a good heart? Eat some chocolate.
What your profession says about your likelihood to cheat. 
Munchin' in the boys' room!
Sorry, lumberjacks of the world, but beards are not always better.
If you wanna be my lover, you'd better be up front about this…
Facebook while you pee!
Twitter Chatter 10/13/16
For some, the fall brings out the romantic. For others, it's the fall beers!
The ice cream that's literally intoxicating.
Low-carb = no fun!
Who's YOUR travel companion?
Lost any friends yet over this election? You're in good company.
Which POTUS candidate would you rather be for Halloween?
What your hair color has to do with singing in the car!
If women controlled the dictionary, these words would be forbidden.
A night with your dog or a day with your bae? You choose!
What's YOUR cereal o'choice?
How are the Japanese celebrating Halloween? With Doritos!
It now costs more to send your kid to preschool than it does to send him or her to college.
The latest coffee is a performance enhancing drug. And by "performance," Jeremy means…
Save your relationship, or save your bacon?
Does size matter? Size of the waistline, that is…
Whatcha bein' for Halloween?
Do the clown sightings have you compulsively checking your cell phone?
Hangover-free alcohol? Where have you been all our lives?
Your key to online dating success? Pets.
Whose mug would YOU add to Mount Rushmore?
The ideal first date, according to Jeremy Scott.
You know that talk is cheap, and those rumors ain't nice…
Guys, please don't bathe in cologne.
Who knew innocent candy could be so polarizing?
Surprise, surprise. There are already bugs with the new iPhone.
Twitter Chatter 9/16/16
Jeremy has high hopes for John Stamos's latest project.
Are you the kind of driver all the other drivers hate?
Ladies, you spend HOW MUCH on makeup in a lifetime?!
Stubborn men waste gas money. Are you or is someone you know guilty?
For all the ladies who say beards are better.
Planning to get the new iPhone? It won't take you long to break it.
Hate your kid's name, even though you are responsible for it? You're not alone.
Jeremy's ready for Christmas. Sort of. Are you?
This coffee's a real ass-kicker. It's even in the name!
Love at first swipe?
Pizza possesses the power of professional productivity!
Diet pizza: the next great food fad?
If it's called "French," it must be good.
Twitter Chatter 8/30/16