Join Jeremy Scott weekday mornings from 6am to 10am for your daily dose of talk, contests, and of course Today's Best Mix. From riffing on today's pop culture to giving away hot prizes, it's always a great way to start your day on 96FM!
---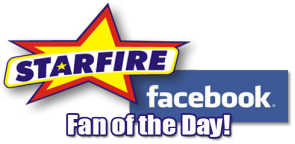 Join 96FM's "That Facebook Page" on Facebook and you could be the
"Starfire Facebook Fan of the Day!"
You could win great prizes compliments of
Starfire Stores!
Click Here and "Like" the page for your chance to win!!
Click below for recent segments of "That Morning Show!"
Love at first swipe?
Pizza possesses the power of professional productivity!
Diet pizza: the next great food fad?
If it's called "French," it must be good.
Twitter Chatter 8/30/16