93-BNV has tickets to Cedar Point's Halloweekends!   Listen to Bob & Sheri on 93-BNV weekday mornings for your chance to win tickets!
Listen to 93-BNV for your chance to win tickets to Kellogg's Tour of Gymnastics Champions coming up Saturday, October 22 in Columbus.  We'll give tickets away weekday mornings on WBNV.
Weekday mornings 5:30am to 10am beginning September 2nd, 2014
Click here to visit the Bob and Sheri Show Webpage now!
---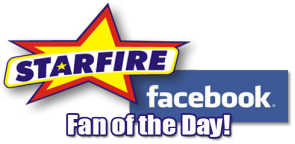 Join 93 BNV's Facebook group and you could be the
"Starfire Facebook Fan of the Day"!
You could win great prizes compliments of Starfire Stores!
Click here to join WBNV's Facebook group